Trout fishing enthusiasts will be delighted.
Calm, serenity and a comfortable stay will become an unforgettable moment.
You are probably wondering why my family and I could go to an outfitter without being hunting or fishing enthusiasts.
Simple… Our cottage rental rates are very affordable and will allow you to enjoy the moments of relaxation. You will find the details of each of our cottages in the "Our facilities" section.
Pour plus de détails ou une réservation...
Fishing
Trout Fishing amateurs will be delighted. Coin Lavigne includes eight (8) lakes that are stocked every week with natural and seeded trouts waiting for your line. Calm, serene and comfortable stay will make your visit unforgettable.
Type of Trouts:
Speckled trout and Rainbow trout.
Types of fishing:
Spring, Summer, Fall.
Learn about our products and services and contact us to book your place in our new luxurious Boréal cottage "Fish house" on the shore of the la Baie lake. You will find trouts from ¾ to 1.5 lbs.
Ice Fishing
Ice Fishing Packages
This year, Coin Lavigne transferred its Ice fishing activities to the Domaine du Renard Bleu.
An outfitter that also belongs to us.
A parking lot located at the lake allows you easy access to the fishing huts!
We therefore invite you to consult the information on our site.
Find out about our packages and / or make your reservations.
Our packages
At Coin Lavigne outfitter, several types of packages are available depending on the season and needs.
We also have Summer packages / Family packages which are listed below and other packages available that can be found in the "Pricing / Fishing Packages" section.
At Coin Lavigne, we are fortunate to have Fall fishing until the end of October. Fall is a wonderful time for trout fishing because the temperature is mild, there are almost no mosquito and trouts are biting like during Spring season.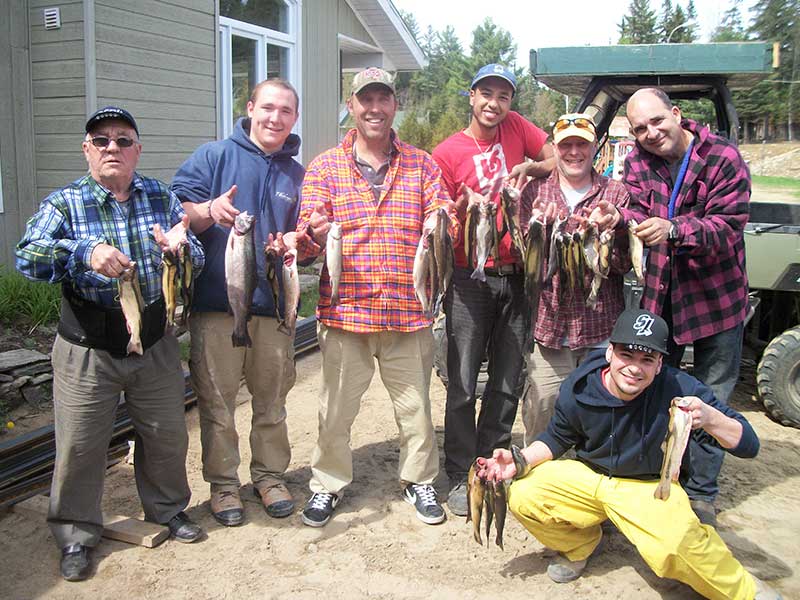 Summer Package / Family Package
( Rental price )
Cottages at the Main desk and on the edge of the lakes
from July 5th to October 31st
Droits de pêche (2 quotas);
Chalet;
E
mbarcations
.
2 adultes / 2 enfants moins de 17 ans.
Enfant supplémentaire:
20$/jour
Location d'équipement: (Prix quotidien)
VFI (Veste de flottaison) :
2.60$
Location - Moteur et Batterie:
Pour plus de détails ou pour réserver votre place h2>
Les prix n'incluent pas les taxes.
Les prix sont sujets à changement sans préavis.
(Certaines conditions peuvent s'appliquer)
Our address
5045 Chemin du Parc-du-Mont-Tremblant
Saint-Côme, Qc
Do not use this address for the GPS